By Brian Gordon, Last updated: 9/21/2020
When outfitting a new or previously-owned boat for the dock, we suggest you put, dock lines, boat fenders and a quality boat hook at the top of your list. Of course, there are plenty of other items to consider, but we suggest you start with these items first.
Nylon versus Polypropylene Dock Lines
In general, we recommend you choose nylon lines for docking applications. This is because the elasticity of nylon enables nylon dock lines to absorb the shock loads generated by wind, current and waves—which in turn reduces stress on cleats and other deck hardware.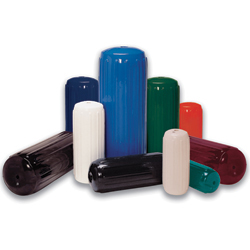 The principal advantage of polypropylene dock lines is their low cost. However, polypropylene has only about 60% the strength of nylon, degrades quickly in the sun, does not hold knots well and lacks the stretch required to absorb the shock loads encountered at a dock. For these reasons, we recommend you put performance ahead of price and choose polypropylene dock lines for light-duty, inland applications only.
While you can purchase nylon line by the foot and splice a set of dock lines yourself, most boaters prefer the convenience of pre-spliced dock lines. West Marine offers pre-spliced nylon three-strand, single-braid and double-braid dock lines. All include a 12" diameter spliced eye—which frees you from having to learn how to splice the eye yourself. Here are the main differences between each:
Single-Braid Dock Lines are the most flexible, easiest to tie and have moderate stretch. They are available only in larger sizes (5/8"–1 1/2") and are popular with boats in the 45'–60' range.
Double-Braid Dock Lines are flexible, smooth in the hands, and have the greatest strength. They also have the least stretch, which can be an advantage if you want to position your boat more accurately in the slip.
Three-Strand Dock Lines cost the least and have the most stretch.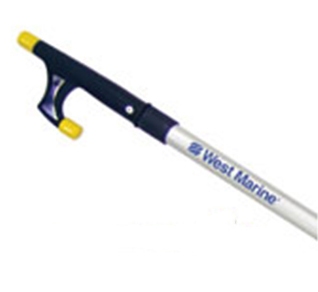 We suggest you shield your dock lines against damage due to chafe, which can occur wherever lines rub against cleats, chocks and other rough surfaces. Chafe guards provide a sacrificial surface that can take the damage without reducing the breaking strength of the line.
All but the smallest of boats can benefit from having a boat hook onboard. Boat hooks give you the ability to grab lines, retrieve objects dropped in the water and safely push your boat away from nasty hazards like barnacle-encrusted pilings. We suggest you select a boat hook that can float since sooner or later, like many boaters, you might drop yours in the water. Telescoping boat hooks feature anodized aluminum tubing that extends quickly and twist-locks securely. Glass-filled nylon heads are curved to aid in line retrieval and soft tips prevent scratches.
Fenders are inflatable vinyl chambers that protect boats by acting as a cushion between other boats, docks, pilings, sea walls and most everything else that a boat can scrape or crunch up against. Sausage-shaped cylindrical fenders are the most popular. Choices also include round fenders and specialty fenders. Most fenders include an inflation valve that enables adjustment of their firmness. Fenders should be firm, not hard, to absorb the boat's motion. Inexpensive fenders may not be adjustable.
Styles of cylindrical fenders include one-eye fenders, two-eye fenders and center-rope tube fenders. One-eye fenders are hung vertically over the gunwale of a boat. Two-eye fenders can be hung vertically with a single rope or horizontally with two ropes. Center-rope tube fenders can be hung horizontally or vertically using one line running through the centerline. When hung vertically, a figure eight knot is tied in the end of the line. When hung horizontally, two figure eights at both ends of the fender are used to keep the fender from sliding.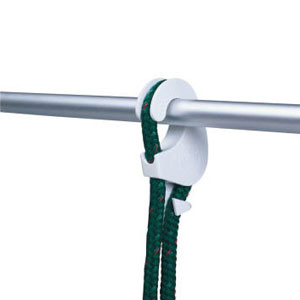 Round fenders are popular for larger powerboats with concave bows and larger commercial vessels such as commercial fishing boats. Orange round fenders are also used as low-tech mooring buoys.
Specialty fenders include fenders designed for specific applications, such as pontoon boats, low-freeboard boats like bass boats, self-centering V-shaped fenders for pilings, plus fenders designed for rafting up to other boats.
What size fenders do you need?
Our "ballpark" recommendation is roughly 1" of diameter for cylindrical fenders or 2" of diameter for round fenders for every four-to-five feet of boat length. Fender size also depends on location, boat weight and conditions. Boats kept on Lake Michigan, San Francisco Bay or other locations with heavy wave action or tidal surge need more protection than boats docked in a calm lake. Use the table below as a guide to sizing your fenders. When in doubt, select the next size up.
| Boat Length In Feet | Cylindrical Fender Diameter | Round Fender Diameter |
| --- | --- | --- |
| Under 10' | 3" | NR |
| 10'–15' | 3"–4" | 9" |
| 15'–20' | 5"–5.5" | 12" |
| 20'–25' | 6"–6.5" | 15" |
| 25'–35' | 8"–8.5" | 18" |
| 35'–50' | 10.5"–12" | 21" |
| 50'–60' | 12" | 27" |
| 60'–72' | 15"–24" | 27" |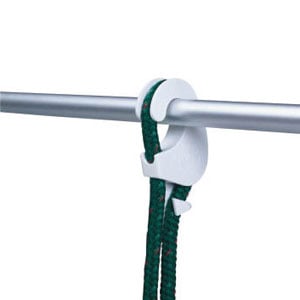 Fender whip is the nautical name for a rope that you use to hang a fender. While you can make your own fender whips with cut lengths of line, West Marine offers the convenience of pre-spliced fender whips. These come with a spliced eye at one end, which makes for easy fender attachment without hard-to-untie knots. Fender height adjusters are used to hang and adjust your fenders to the height you need to best protect your boat. Most are designed to slip over a lifeline or rail and include a mechanism that locks the fender whip in place with the fender at the height you wish. Fender covers keep fenders from getting dirty and protect the topsides and hull from unsightly fender scuff.
Most boaters who wet-store their boat in a slip would find it hard to be without a dock box. Dock boxes are like mini storage sheds that house items that you will frequently need but that are not kept on a boat. Typical items you might store in your dock box include maintenance items like paints, varnishes and cleaning supplies.
Conclusion
As you and your boat settle in to life at the marina, there are plenty of other items that you may want to consider. This might include docking lights for your boat or maybe a set of solar-powered dock lights for your dock. If your property fronts on a waterway, heck you might even decide to build your own private dock! West Marine is ready to help with the products and advice you need to meet all of your boating needs.
Suggested Reading
How to Choose the Right Dock Lines
Upgrading Your Dock LInes
Choose the Right Boat Fenders