By Brian Gordon, Last updated: 9/2/2021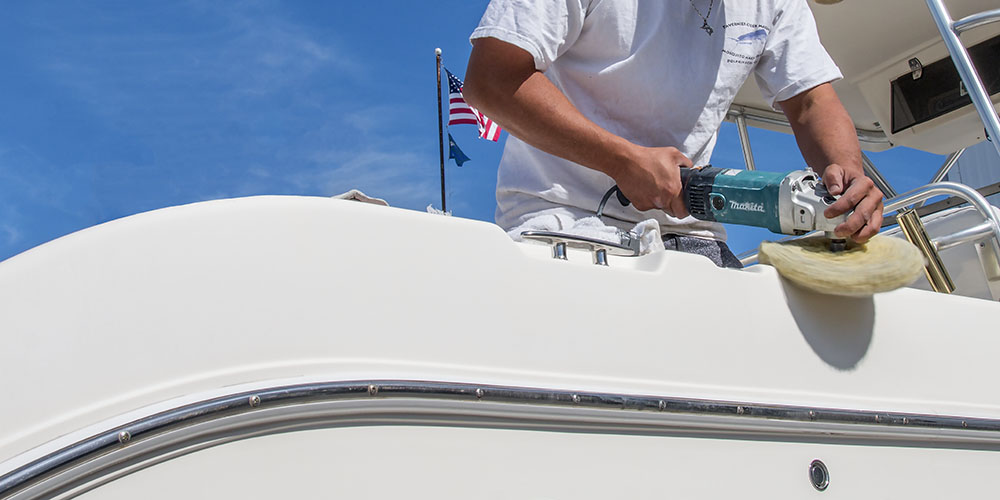 Preventative maintenance is essential to the dependable operation of your boat and for a safe and enjoyable time on the water. Typical maintenance tasks that many owners perform themselves include: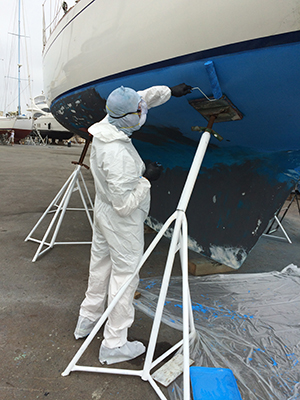 Bottom painting and hull maintenance
Routine engine maintenance
Anode inspection and replacement
Checking the condition of hoses and hose clamps
Inspection and maintenance of plumbing systems
Keeping the bilge clean
Adjusting the stuffing box
Keeping cockpit scuppers free of debris
Washing, waxing and protecting the finish
Gelcoat maintenance
Bottom Painting and Hull Maintenance
Wet-stored boat hulls require coating with antifouling paint to prevent marine growth. This is a task that many boaters perform themselves. Options include painting your boat's bottom in the fall as part of the winter layup process or applying antifouling paint in the spring. For help and advice on bottom paint selection and bottom paint application, check out our West Advisor articles Do-it-Yourself: Topside Painting, Top Ten Antifouling Paint Buying Questions, Do-it-Yourself: How to Bottom Paint Your Boat. Note: For wet-stored fiberglass boats, an area of concern is the potential for osmotic blistering of the hull. If your hull is suffering from osmotic blisters, options include spot repair of the damage or application of a barrier coat across the entire bottom of the boat. For more on osmotic blistering and barrier coats, see our West Advisor article Epoxy Barrier Coats.
Engine Maintenance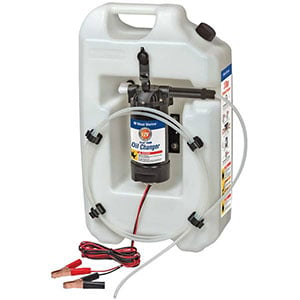 Changing your engine's oil at appropriate intervals is an important action you can take to optimize engine health and performance. Owner's manuals typically recommend an oil change every 50 to 100 operating hours, but total run time cannot always be used as a reliable guide. Actually, the amount of time that your engine sits idle is equally important. This is because dirty oil in idle engines can combine with water to form caustic acids, which can damage inner-engine surfaces. For this reason, we recommend that in addition to changing oil per the manufacturer's recommendation, that you change engine oil prior to winter lay-up and/or at the beginning of a period of non-operation. For an informative video and an overview of ways to make engine oil changes easier, read the West Advisor article Do-it-Yourself: Changing Engine Oil. Other engine maintenance includes periodically checking and (if necessary) adjusting the water pump and alternator belts and checking the coolant levels. If your engine is running rough, it might need a tune up—which depending on your level of expertise you can do yourself or leave to a pro. West Marine offers a complete selection of aftermarket engine replacement parts for most makes and models of engines. To find the parts you need, take advantage of our online engine parts selector.
If you are feeling a lot of resistance when you shift your boat into forward or reverse, you need to inspect your shift and throttle cables. Cables should be inspected where they connect to the engine control lever(s) at the helm and where they connect to the engine. Look for obvious signs of aging or wear. Cables with a cracked jacket should be replaced. More often than not, the resistance you feel at the helm will be due to rust caused by water wicking up inside the cable assembly. Lubricating the cable with marine grease at each end can help, but once rust works its way inside a cable it is often time for it to be replaced. For most do-it-yourselfers, this is a pretty elementary task—which should not be delayed, since a sudden failure could result in a serious collision or accident when underway.
Inspect sacrificial anodes and replace as needed.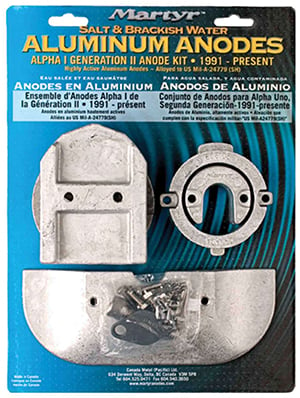 Galvanic corrosion can damage or destroy underwater metal parts of boats, dock hardware and other equipment. Galvanic corrosion can occur when dissimilar metals touch each other (or are electrically connected by a conductor) and are immersed in an electrolyte like saltwater. One of the metals will become anodic to the other and will begin to deteriorate. A typical example of this can be seen in a bronze propeller installed on a stainless steel shaft. Left unprotected, the propeller will begin to lose material, become extremely brittle and can eventually break.
sacrificial anodes are employed to prevent this type of damage. Bolting a sacrificial anode to the stainless prop shaft and/or the propeller will protect the propeller against galvanic corrosion. Apart from protecting your propeller and prop shaft, specialized sacrificial anodes are also used to protect water heaters, engine cooling systems, refrigeration systems, boat outdrives and other systems. If you recently purchased your boat, make a point of getting to know the location of its sacrificial anodes—all of which will periodically need to be replaced. The general recommendation is that sacrificial anodes should be replaced when half of their material has been lost to corrosion. To learn more about sacrificial anodes and galvanic corrosion check our West Advisor article Preventing Galvanic Corrosion.
Inspect Your Boat's Hoses
Boat engines can create a lot of vibration which can travel throughout a boat and cause hoses to decay or work lose from their fittings. For this reason, we recommend that you periodically inspect all your boat's hoses and make sure they are securely clamped to their respective fittings. This includes all the hoses associated with your boat's engine fuel, exhaust, bilge and plumbing systems. Pinched, cracked or otherwise worn hoses should be replaced. In most cases, hoses should be double clamped and we recommend 300 series or higher stainless steel clamps. Make sure that each application on your boat is plumbed with the correct type of hose. For help and advice check our West Advisor article Selecting Marine Hoses .
Keep plumbing systems operating properly.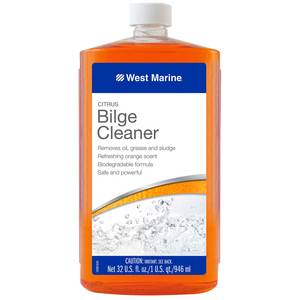 For many of us, our boats are like a home away from home. With all the time we spend on the water, the need to keep our boat's sanitation systems and potable water systems in working order goes without saying! For upgrades and repairs to potable water systems, West Marine offers a complete selection of freshwater pumps and pump replacement parts. For upgrades and repairs to marine sanitation systems, West Marine offers a complete selection of replacement heads, marine MSDs, plus rebuild kits and replacement parts.
Inspect the bilge and keep it clean.
Keeping a close eye on your boat's bilge is important for a number of reasons. First, oily water in the bilge could indicate an engine oil leak. Second, debris in the bilge can foul your bilge pump float switch or the bilge pump intake strainer, rendering your bilge pump useless. For many boats, due to backflow from the bilge pump discharge hose, a small amount (less than half an inch or so) of water in the bilge is normal, however if the bilge pump is constantly pumping, you need to determine where the water is coming from. Typical scenarios include a scupper hose that might have come loose from its fitting and is dumping water inside the boat, a misadjusted stuffing box, leaky thru-hull fitting or valve or other reason.
Adjust your boat's stuffing box.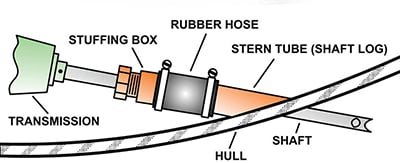 If you own an inboard powered boat and wonder where the water in your bilge is coming from, the first place you should look is the stuffing box. A stuffing box forms a seal between the prop shaft of an inboard engine and the shaft log, which is a hole in the hull through which the shaft passes. A stuffing box assembly consists of a threaded sleeve and a hollow nut, through which the prop shaft passes. The nut is filled with rings of wax-impregnated material, called flax packing, and screwed into the sleeve. The packing is compressed around the smooth shaft as the nut is tightened and a little water is allowed to leak into the boat past the packing which serves to lubricate and cool the packing. The packing adjustment nut allows the flax to be tightened to adjust for wear. Over time, the seal breaks down and the flax packing must be replaced. For more on this procedure and alternatives to traditional stuffing boxes check the West Advisor article Stuffing Boxes, Shaft Seals, Bearings and Couplings.
Keep deck and cockpit scuppers free of debris.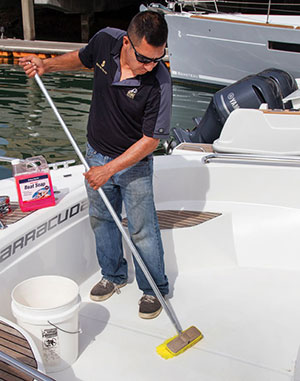 It is surprising the number of boats that sink due to disinterested owners who allow deck and cockpit scuppers to clog with leaves and debris. In this case it is not the sea that sinks the boat, but rain and snow melt that fill a boat's cockpit to the point where the water overflows the cabin sill and fills the interior of the boat. Maintenance in this case is a no-brainer: Visit your boat often and keep the scuppers and cockpit drains free of debris. If the scupper drains through a hose that passes inside the boat to a thru-hull fitting, make sure the scupper and thru-hull fittings are sound and that the hose is securely clamped in place.
Clean, polish and protect your boat's finish.
Washing your boat won't necessarily make it perform any better, but it certainly can boost its curb appeal. More importantly, ground-in dirt can prematurely wear a boat's finish out. For this reason, we suggest that you wash your boat regularly; polish out any oxidation and follow up with a protective coat of wax. West Marine offers a variety of environmentally-friendly boat soaps and a complete selection of polishes and waxes. In some cases, a simple one-step formula is all that you might need. For an overview of how to clean and renew oxidized (chalky) gelcoat, take a look at our West Advisor article Gelcoat Care and Restoration.
Gelcoat Maintenance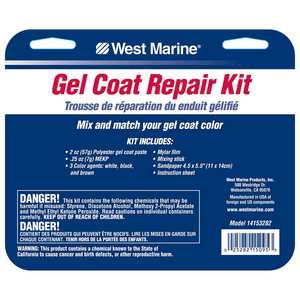 Cracks and superficial dings in gelcoat are not normally a cause for immediate concern. However, we do suggest you repair such damage to prevent water from getting into the underlying fiberglass laminate. If you find a series of cracks, take a minute to inspect the area more closely. If the cracks radiate from the base of load-bearing equipment like a cleat or stanchion, there may be a problem with the installation that deserves attention. For cracks around the base of a stanchion, the remedy may be as simple as sealing the cracks and then installing a larger backing plate under the stanchion. Superficial gelcoat repairs can be mastered by most do-it-yourselfers. In addition to specialized formulations for sealing gelcoat cracks, West Marine sells gelcoat repair kits that include everything you need for minor gelcoat repairs. For a DIY article on how to repair minor gelcoat damage, see our West Advisor article Do-it-Yourself: Gelcoat Repairs.