By Tom Burden, Last updated: 8/8/2019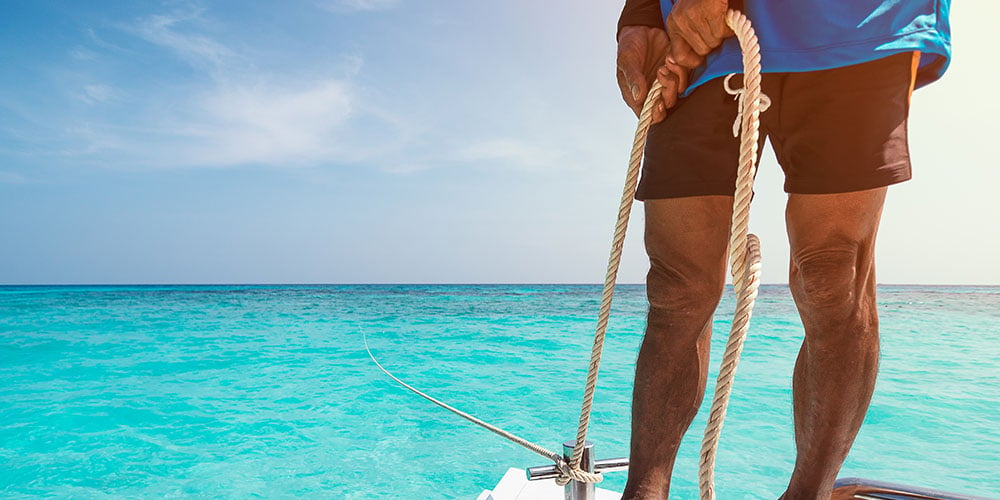 Are you feeling insecure about your anchor rode?
Has the line been piled in a saltwater-saturated heap in the chain locker for a long time, with chain that is so rusted that it leaves stains on the foredeck of your boat? Perhaps you're beginning to distrust the integrity of the shackle, thimble and the whole works. If this sounds a little too familiar, then it's time for a replacement and/or upgrade.
We're discussing this topic because secure anchoring is very important for safe boating; a reliable anchoring system can save you, your boat and your family in an emergency. If you are like many boaters, you may have experienced an engine malfunction—probably at the worst possible time in the most inconvenient location—and been thankful that your anchor was ready for rapid deployment to keep you, your crew and your boat out of danger.
We've been there and could share some embarrassing tales. Once—after changing the engine oil and making an adjustment to the transmission—our 30-foot boat died mid-channel in our local harbor entrance. So much for the planned fifteen-minute test run. Our Claw anchor became our best friend as we drifted closer to the rock breakwater, a mere 100 yards from the security of our slip. We hailed our harbormaster and meekly sat in the cockpit waiting for a tow.
Skill Level Required (1=Easiest, 10=Most difficult)
Assembling an anchor line and chain: 2
Splicing a rope-to-chain splice: 6
Assembling an anchor line and chain, tools required:
Rope to chain splice, tools required:
Hollow fid
Rigging or electrical tape
Hot knife or soldering iron
Rigging knife
The Anchor Rode
The general term "rode" describes the line and/or chain that connects the anchor to the boat, since it may not be a line at all (many cruising boats use all-chain rodes). The rode should meet the following four criteria. First, it must be chafe-resistant to stand up to abrasion from the seabed and the boat's anchor roller, deck pipe and chocks. Second, an anchor rode should keep the pull on the anchor shank horizontal to maximize the anchor's holding power. Third, the rode should be lightweight so you are not carrying a lot of extra pounds in the bow of your boat. Finally, it must be strong enough to resist the pull of wind, waves and current.
Since boats come in so many configurations, floating in a wide variety of waters, no single type of rode meets these requirements for every boating style. We will describe four basic rode combinations, and help you find an anchor rode that works great for your boat and how you use it. All of the rodes discussed here rely on one or two main components: quality three-strand line from a company like New England Ropes; and quality hot-dip galvanized chain from ACCO. Three-strand nylon line has excellent abrasion resistance, shock-absorbing elasticity and strength. And galvanized chain is flexible, heavy, abrasion resistant, and extremely strong.
The Right Line Diameter
In general the load on an anchor line varies with the square of the Length Overall (LOA) of the boat. To size three-strand line correctly to balance shock-absorbing stretch with ample strength, we use the general rule of 1/8" of line diameter for every 9' of overall boat length. This yields the proper line diameter for the "average" boat. If you own a heavy sportfishing boat with a lot of windage from a high bow, flybridge and tuna tower, for example, you would want 1/8" of diameter for every 8' of boat length. Lightweight or low windage boats, like an ultra-light racing sailboat, can use 1/8" of diameter for every 10' of length.
Types of Anchoring Chain
The least expensive anchor chain is called proof coil chain, or Grade 30, with G3 stamped on the links. It's what most boaters use, but will not work for windlasses since it has longer links than other types, and a short link length works best for gypsies. Proof coil also does not have a uniform pitch (the length of the opening in each link). Use Proof Coil chain for non-windlass boats.
The second type of chain is called BBB or Triple B chain. Identified by the 3B stamp on the chain link. Its links are uniform in pitch and shorter by 10 to 15 percent compared to proof coil. While it is the same in strength, the short link makes it good for windlasses.
High Test chain-Grade 40-called HT or G4, is the preferred chain for most modern windlass applications, according to Lewmar's windlass expert, Kevin Donohue. With G4 stamped on the links, High Test has twice the working load of BBB chain.
The strongest chain that West Marine carries is called Transport Chain, since it is used by trucks and the transportation industry. It is another 20 percent stronger than high test, resists wear because of its exceptional hardness properties and can be identified by the G7 stamp on the links. Mainly used for all-chain rodes on large boats, G7 is almost too light for its strength rating to provide the required horizontal pull on the anchor and absorb wind, current and wave loads for small/medium sized boats.
Compatibility With a Windlass
Every windlass for chain includes a drum or wheel called a gypsy. Whatever chain you select, it must fit the gypsy on your windlass perfectly, or the windlass won't perform properly and the gypsy may be damaged by the poor chain alignment. Each gypsy fits one or more diameters of line (of three-strand, twelve-strand or eight-strand construction) and specific types and diameters of chain (like 1/2" Grade 40, 5/16" BBB or 3/8" Grade 70, for example). Most windlasses can be purchased with different gypsies to fit different chain types. Most older windlasses were made for Triple B chain. The majority of windlasses sold today come with gypsies fitting G4, and very few windlasses use G7 Transport Chain.
The Right Rode Diameter
For BBB and proof coil chain, the chain size should be half the line diameter. 5/8" nylon line should be matched with 5/16" galvanized chain. Use shackles one size larger than the chain (1/4" chain would use 5/16" shackles). As a general guide, for winds up to 30 knots, we recommend the following line and chain diameters for light, average or heavy boats, using three-strand, high quality line. This table assumes an 8:1 safety factor.
| Light | Medium | Heavy | 3-Strand Nylon | Chain |
| --- | --- | --- | --- | --- |
| 26'–30' | 23'–27' | 21'–24' | 3/8" | 3/16" PC |
| 31'–35' | 28'–32' | 25'–28' | 7/16" | 1/4" PC |
| 36'–40' | 32'–36' | 29'–32' | 1/2" | 1/4" PC |
| 41'–45' | 37'–40' | 33'–36' | 9/16" | 5/16" PC/BBB or 1/4" HT |
| 46'–50' | 41'–45' | 37'–40' | 5/8" | 5/16" PC/BBB/HT |
| 51'–60' | 46'–54' | 41'–48' | 3/4" | 3/8" PC/BBB or 5/16" HT |
| 61'–70' | 55'–63' | 49'–56' | 7/8" | 1/2" PC or 3/8" HT |
| 71'–80' | 64'–72' | 57'–64' | 1" | 5/8" PC or 1/2" HT |
Anchor Rode Length
The classic rule is to use seven times the sum of the water depth plus the boat's freeboard. Many boaters will use a scope of more like five times, and will compensate with more chain or more vigilance!
Small Boat Anchor Rodes
The simplest anchor rode involves connecting the anchor directly to a spliced nylon anchor line. An example uses a West Marine 8lb. Traditional Anchor, a 1/4" shackle, and a 3/8" x 150' New England Ropes anchor line. This is great for day use with a small boat. It's lightweight, inexpensive, and will hold well as long as the scope is sufficient.
To make this anchor package even more effective, you can add a short length of chain between the anchor and the line. The classic rule is to add a boat length of chain, which does two things: it protects the nylon line from chafe caused by seabed rocks and debris, and the chain's weight keeps the angle of pull on the anchor parallel to the bottom. But even a short length, like coated Acco chain, will make a big improvement in anchor performance and the longevity of the system.
Small galvanized shackles connect the anchor to the length of chain, and attach the chain to the thimble on the anchor line. Remember to use the "next size up" in shackles; a length of 1/4" chain would be matched to a 5/16" shackle. This system, with a long length of three-strand nylon line, a moderate length of chain and a properly sized anchor will satisfy the needs of the majority of boaters, with boats up to the 30' feet.
Anchor Rodes for Use with a Windlass
Things get a bit trickier if you want to use a windlass because windlasses do not allow passage of the thimble and shackle joining the line to the chain. About 25 years ago, a windlass manufacturer came up with a combination rope-chain gypsy that allows you to pull anchor rode in one continuous operation, a feature that is now standard equipment on virtually every windlass in the 500lb. to 1,500lb. capacity range.
The Rope-to-Chain Splice
Rope-chain gypsies operate using a rode with a splice connecting the three-strand line to the chain. Folks were skeptical about the strength and reliability of this new rode technology at first, so in 1995, West Marine, New England Ropes and Practical Sailor magazine destruction-tested samples of rope/chain splices using the rope manufacturer's computerized testing lab. Chuck Hawley's Practical Sailor report documented that the splices retained 80 to 87 percent of the line's strength before they failed. Today, because of these and other tests, rope/chain splices are the accepted standard for rodes used with a windlass.
You can use a rope-chain spliced anchor rode with or without a windlass. It's secure, with no mechanical parts to fail or shackle pins to unscrew, plus it passes over anchor rollers and through chain pipes with less hassle. We recommend it for anyone using a combination rode. There are three choices for obtaining a rope/chain spliced rode: you can buy a pre-spliced rode from West Marine; you can order a custom rode from West Marine Rigging that combines virtually any line with any chain, or you can make it yourself. Chuck and Kevin show the basics of making this splice in our companion Video Advisor.
Big Boat Anchor Rodes
If you own a boat over 40' of length and cruise to lots of different anchorages with a variety of seabed types, you should consider an all-chain anchor rode. There's nothing like the feeling of security provided by the strength and abrasion resistance of chain for open-water and heavy-weather anchorages.
The negative side of chain is its weight. Since boats require 200' or more of chain for an all-chain rode, and since chain is very heavy, all that chain adds up to a bunch of weight in the bow of a boat. That's why many boaters (and especially sailboat owners with big and lightweight boats) choose higher strength Grade 40 or Grade 70 chain. These reduce the weight of the chain by 30 percent, yet achieve the same working load and ultimate strength.
Matching anchor chain to a specific vessel can be challenging since the windage of the vessel is probably the key selection factor, and windage is hard to determine. You might want to consult a naval architect or marine surveyor for advice on how to size ground tackle on boats over 60 feet. See our West Advisor articles online at westmarine.com for suggestions on how to size this gear on boats up to about 60 or 70 feet.
Proper Scope With All-Chain Rodes
Determining the length of anchor chain is based on the maximum water depth and the freeboard of the vessel, but since chain is so heavy, generally you can plan on using 4:1 scope. And, due to the weight of the chain, you actually need less scope as the water depth increases. All-chain rodes are often around 200-300 feet long. For deep anchorages, the chain can be spliced to a length of nylon rope. Beware that rope-to-chain splices can wear due to the load encountered when anchoring—so the splice should be checked frequently. If there is any evidence of chafe or wear, the splice can easily be redone. Regardless of whether you use nylon rode, it's extremely important that boats with chain rode have some nylon at the bitter end so that the rode can be cut in an emergency.