By Brian Gordon, Last updated: 10/7/2020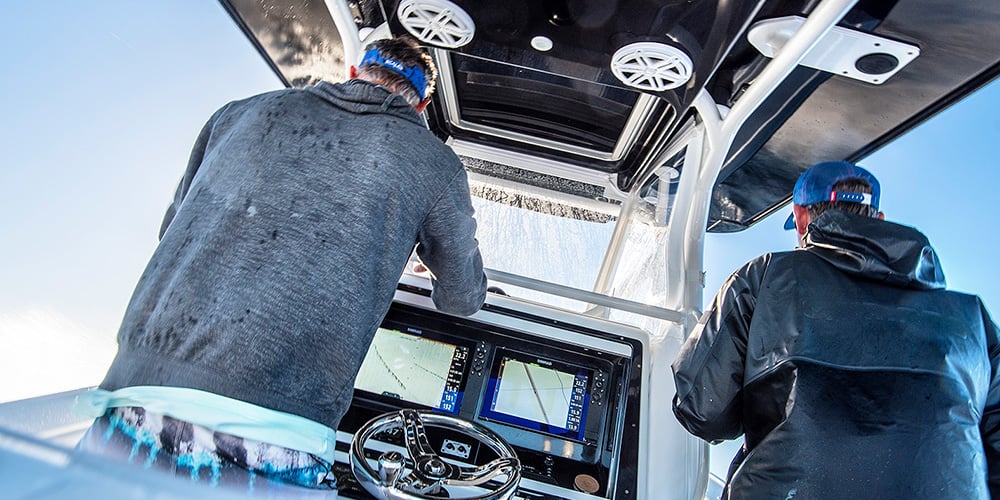 This article provides an overview of the most popular marine electronics offered by West Marine. When evaluating a prospective electronics purchase, features to consider include ease of operation, product reliability and the skill level required for installation. Beyond these considerations, this article covers the following types of electronics: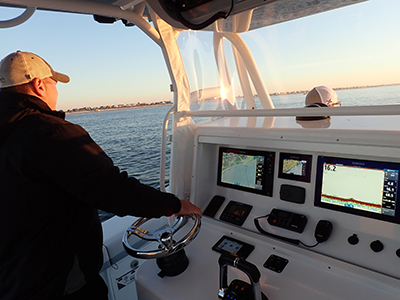 Handheld VHF Radios
Fixed-Mount VHF Radios
Handheld GPS Receivers
Fishfinders
Fishfinder/Chartplotter Combos
Multifunction Displays
Electronic Charts
Radar
Ease of Operation
When shopping for any of the above-listed items, look for simplicity of operation. The trend today is towards user-friendly touchscreens with intuitive menus, which shortens the "learning curve" and helps infrequent boaters who would prefer to limit their need to consult their owner's manual.
Product Reliability
Of course ruggedness, waterproofness, length and strength of the warranty; and for cruisers, worldwide product support are all important.
Installation
Electronics products vary widely in how difficult they are to install. Whereas installing a fixed-mount VHF radio is relatively easy for most boaters, installing networking electronics is more complicated. So before making a purchase, we suggest you determine what you are in for. Perusing the product's owner's manual, checking out You Tube product installation videos and of course, speaking with a West Marine associate are great ways to become informed. In some cases, depending on the complexity of installation, you might find that the job is best left to a pro.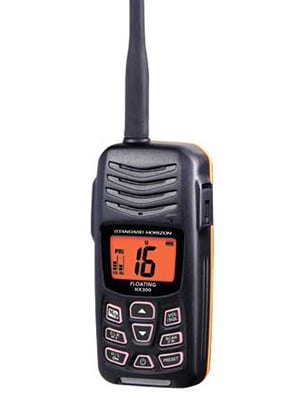 About VHF Radios
VHF (Very High Frequency) radios are the primary means by which most boats communicate with other boats, bridge tenders, lock operators, harbormasters, towing services and first responders like the Coast Guard. Second only to life jackets, a VHF radio is one of the most important safety items to have on a boat. Many authorities argue that in addition to a fixed-mount VHF radio, that you also should have a handheld VHF onboard. VHF radio transmissions are "line of sight". This means that transmissions are blocked by objects like islands, large waves or the curvature of the earth. Because of this, the height of the radio's antenna has a greater bearing on transmitting range than transmitting power. An important feature to look for in handheld and fixed-mount VHF radios is Digital Selective Calling, otherwise referred to as DSC. In a mayday situation, having a DSC-enabled VHF radio gives you the ability to transmit a distress message that includes your exact position plus important information such as your boat's name and type. DSC-enabled VHF radios often include a built-in GPS. Those that do not, require connection to an external GPS.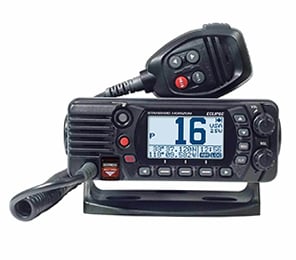 Handheld VHF radios provide boaters with short-range portable communications. Typical uses include ship-to-ship and ship-to-shore calls, obtaining vessel traffic information and communicating from a dinghy to the "mother ship". Maximum transmitting power for handheld VHF radios is up to 6 watts, with maximum range frequently limited to about 3–5 miles. This limited range is due to the relatively low antenna height in typical usage, such as when transmitting from a dinghy or when standing on deck. Important features to consider in a handheld VHF are battery type, battery life, waterproofness, screen size and the warranty.
Fixed-mount VHF radios have 25 watts of transmitter power and the option of transmitting at 1 watt of power so that short range transmissions are less likely to interfere with surrounding boaters. It is always a good idea to try to reach your party on 1 watt of power before switching to 25 watts. Compared to 3–5 miles for handhelds,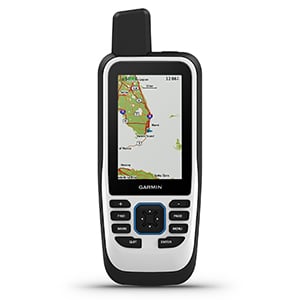 Fixed-mount VHF radios have a range of 5–25 miles. This has less to do with broadcasting power and more to do with antenna height. VHF antennas are sold separately. Powerboats typically use antennas that vary from 6 to 23 feet in length. Sailboats often locate their VHF antenna at the top of their mast which gives them a big advantage when it comes to range. Some fixed-mount VHF radios include a built-in AIS transceiver. AIS (Automatic Identification System) enables you to keep track or the position, course and speed of other AIS-equipped boats around you—which greatly aids in collision avoidance.
GPS receivers provide highly accurate position fixes, 24-hours a day. For small boat outings, dinghy sailing, kayaking or hiking, or as a backup to fixed-mount receivers, handheld GPS receivers are ideal. Most handheld GPS units include mapping capabilities. Important features to consider in a handheld GPS receiver include battery type, battery life, waterproofness, NEMA interface and included accessories.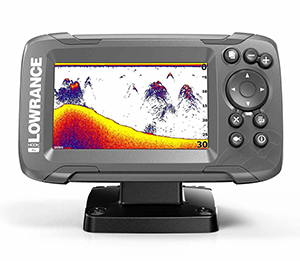 Fishfinders display a representation of what is below the boat, including depth, bottom structure, vegetation and of course fish. Many fishfinders now include CHIRP. CHIRP stands for Compressed High-Intensity Radiated Pulse—a technology that delivers amazingly detailed images of fish and structure. For the low-down on how CHIRP works, read our West Advisor article What's CHIRP Sonar? Factors to consider when purchasing a fishfinder include screen size, power and screen resolution. Most of the fishfinders that West Marine sells include a transom-mount transducer.
Combo displays marry a chartplotter and fishfinder in one case. They usually have a built-in internal GPS antenna, which works well for above-deck installations. However, if you plan to install the unit below deck, we recommend purchase of a separate GPS antenna that you can mount above deck with a clear view of the sky.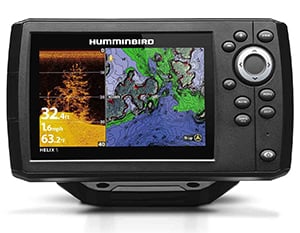 Many combos, specifically those intended for the small-boat inland angler, come with a transom-mount transducer. For the rest, you can purchase a compatible thru-hull, transom-mount, in-hull or trolling motor-mount transducer separately. Features to consider in a combo unit are screen size, screen resolution, cartography (included and available) and the fishfinder's transmitting power.
With affordable options like the Garmin GPS Map and Raymarine Axiom series units, multifunction displays are not necessarily the budget-busters they were in the past.
The big advantage of multifunction displays is their networking capability coupled with their ability to display input from a wide variety of sources, such as radar, audio, video, engine data and more. Multiple displays are often installed on larger boats, with one at the helm, one at the navigation station and one on the flybridge or tuna tower. Most multifunction displays that West Marine sells include preloaded cartography, sounder capability, and an internal GPS antenna. Transducers must be purchased separately.
Electronic charts are digital versions of traditional government-issued paper charts. The data used to make them comes from the United States National Oceanic and Atmospheric Association, Canadian Hydrographic Service or other government sources.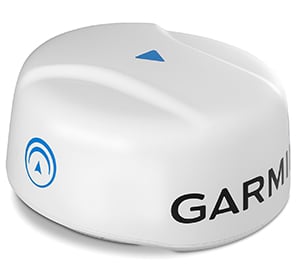 Electronic charts are sold for specific regions with the cartography preloaded on to microSD memory cards which are inserted into the chartplotter unit. Charts can also be displayed on a tablet, laptop or desktop PC which is common on larger craft, where a pilothouse provides a drier and shaded environment for a delicate, non-waterproof device. You have to select the brand of chart and generation of product that is compatible with the chartplotter you own or are considering. For example, BlueChart g2 are compatible with Garmin products. Navionics cartography is compatible with most Raymarine, Navico and Humminbird products.
Radar is the best collision avoidance system you can have on your boat. Radar enables you to "see" through darkness, fog and stormy weather conditions. Today's solid-state radar systems are compact, draw little electricity and are sized to fit boats as small as 18' in length. Combined with AIS and an electronic chartplotter with digital charts, radar can be a real lifesaver.