By Brian Gordon, Last Updated: 8/28/2020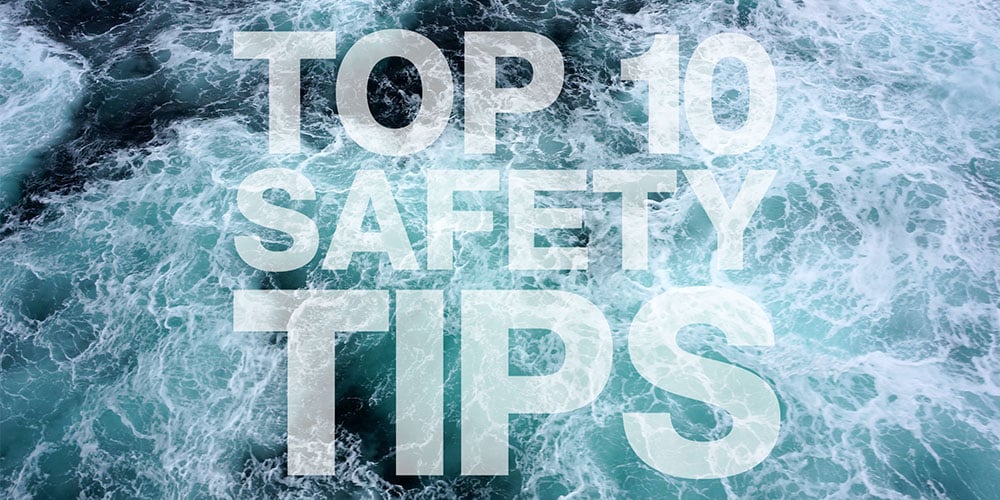 For those who are new to boating and even for experienced "salts", we've compiled ten tips related to enjoying yourself safely on your boat. All of these tips involve taking responsibility for the safety of yourself, your boat and your crew.
Equip Yourself and Your Crew with Life Jackets that Fit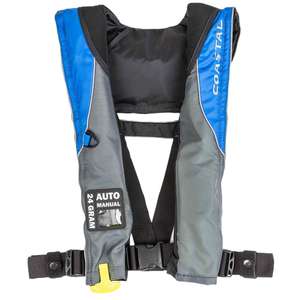 According to the insurers at BoatUS, "More than two-thirds of all boating fatalities are drowning incidents and 90% of drowning victims were not wearing a life jacket". This is why you and every member of your crew should have a life jacket that fits. West Marine offers a complete selection of life jackets to accommodate most every boating activity, including fishing, water sports, day cruising and inshore and offshore cruising. No matter what your boating activity, West Marine has a life jacket for you. If you want to avoid the bulk of an inherently buoyant PFD we suggest you select an inflatable life vest. Many customers find inflatable life jackets to be so comfortable that they forget they have one on!
One Hand for the Job, One Hand for the Boat!
Moving about on an unstable, pitching deck is not the same as walking down a sidewalk. The adage "one hand for the job, one hand for the boat" refers to the need to cautiously move from hand hold to hand hold when moving about on deck. Most boats are equipped with grab rails or other features that you can use to steady yourself when traversing the deck. As a precaution against falling overboard, sailboats are often equipped with jack lines. Jack lines consist of strong lengths of webbing that run fore and aft on both sides of the boat. Crewmembers attach a tether to jack lines that is in turn attached to a harness that they wear. For rough weather or use offshore, jack lines can also be installed on powerboats.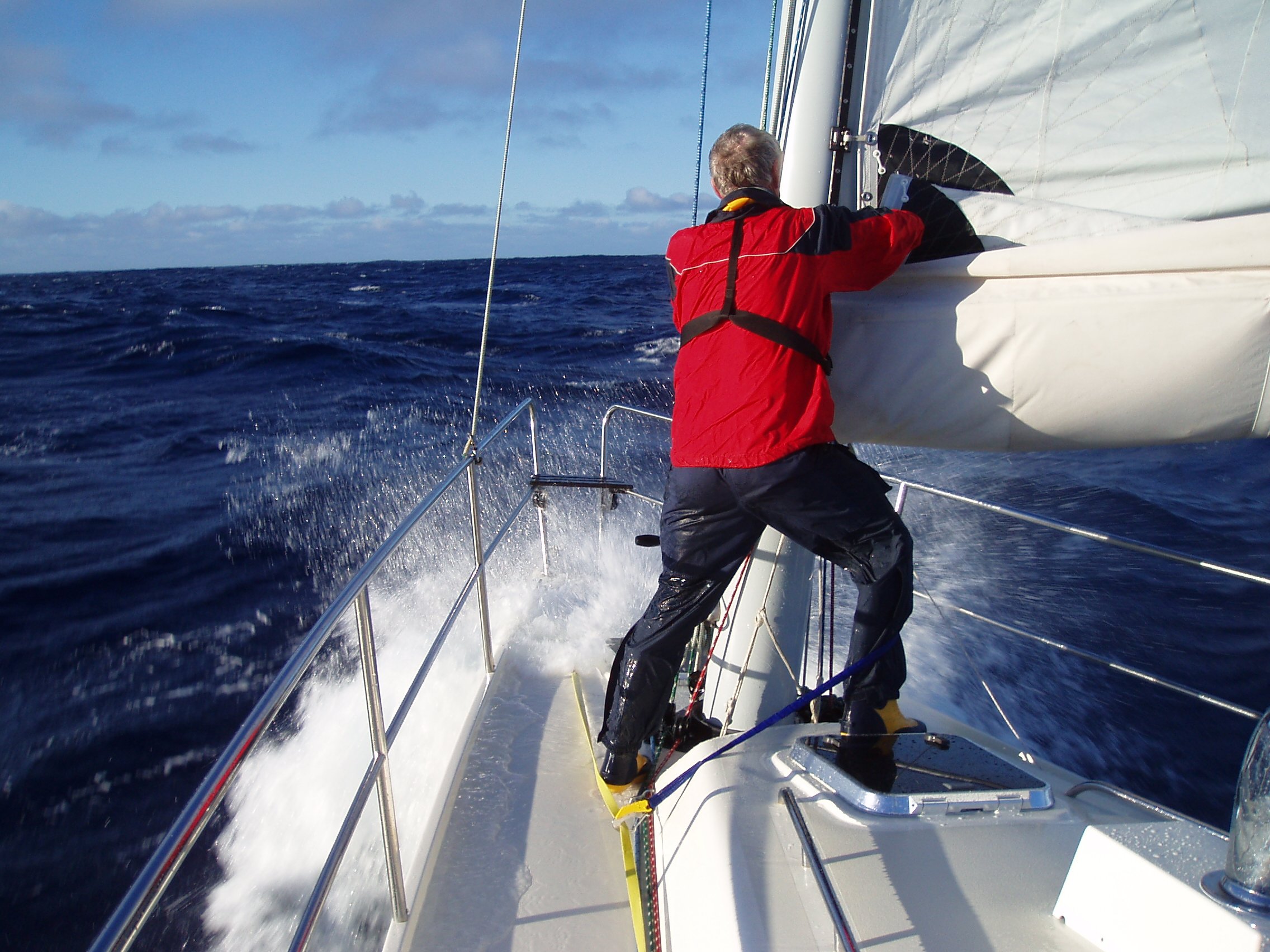 Be the Master of "Your Ship"
As the owner/operator of your boat, you can be held legally liable for injuries that your guests sustain onboard. So while you are spotting dolphins or sight casting for billfish it is important to keep a close eye on your guests. Try to spot and correct hazardous situations before they become a problem. Examples include a clump of line left on deck, an open hatch, open lifeline gate or an exposed turnbuckle cotter pin that can cut an uncovered hand. To be sure, boats by their nature abound with hazards, with their pitching and yawing and obstructions that can pose a trip hazard to experienced and novice boaters alike. So keep an eye on your guests; and without being a "killjoy" encourage caution on their part.
Know Your Boat
As an owner, it is your responsibility to know your boat—and to be prepared for emergencies. Are you able to handle your boat in rough conditions? Do you know where all your thru hull valves are located? Are you able to make simple repairs to your boat's engine should the need arise? If a crew member were to fall overboard, would you be able to recover him or her? Do you know the location of essential items such as your boat's fire extinguisher, VHF radio, medical kit, light switches, hatches, tool kit and other items—and can you find these things in the dark?
No Jumpers Please!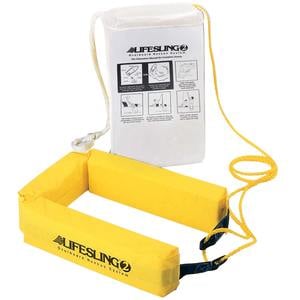 This "tip" is really an extension of "Be the Master of Your Ship" above. It pertains to the behavior of guests when approaching a dock. For some reason certain guests may feel compelled to make a flying leap over the water with the intention of landing on the dock so they can assist as you come alongside. When this maneuver is accomplished successfully the guest will look like a hero but if they trip or fall they might wind up in the hospital. For the good of your guests—and to avoid a potential lawsuit—this behavior should be discouraged. We suggest you learn how to handle your boat in close quarters and go slow when approaching a dock. Also, encourage your guests to wait until your boat has come alongside and touched the dock before they step off.
Appoint a "Designated Driver"
Almost half of all boating accidents involve the consumption of alcohol. In most states it is illegal to operate a boat with a blood alcohol content of .08% or greater. Penalties for boating under the influence of alcohol can be severe, so if your plans include the consumption of alcohol, make sure there is a qualified non-drinking person at the helm. Drink and act responsibly and remember that you, as the owner of the boat, can be held legally liable for any accidents onboard.
Outfit Your Boat with Required USCG Gear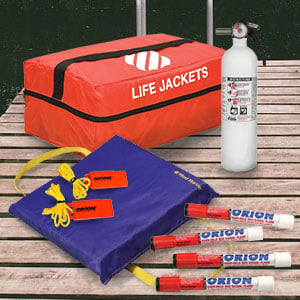 Boating is an equipment-intensive activity. USCG-required gear includes life jackets, fire extinguishers, visual distress signals, sound producing devices, pollution placards and other gear. In addition to safety equipment, if you operate your boat at night, it will also need a set of navigation lights. See Navigation Light Rules. Although not required by the USCG, your boat should also have a VHF radio, which along with life jackets is a key piece of safety equipment to have onboard. There are a wide variety of handheld and fixed-mount VHF radios from which to choose. See Making a Mayday Call on Your VHF Radio. For an overview of all USCG-required gear, see U.S. Coast Guard Required Equipment for Recreational Vessels.
Make Sure Your Boat Has an Anchor and Know How to Use It
While "dropping the hook" might not be in your plans on any given boating day, sometimes the unexpected can happen. Things like being stuck without an engine while you get blown toward a lee shore. This can happen due to mechanical or other reasons, like wrapping a wakeboard tow rope on the prop or losing your prop entirely due to hitting a submerged object. So be prepared with an anchor that is the right size and type for your boat and where you use it. We also recommend that you make sure the rode is properly stowed so that it will run freely when you drop anchor. Caution! Make sure the bitter end of the rode is secured to the boat! For more about anchoring, see the West Advisor article How to Anchor Securely.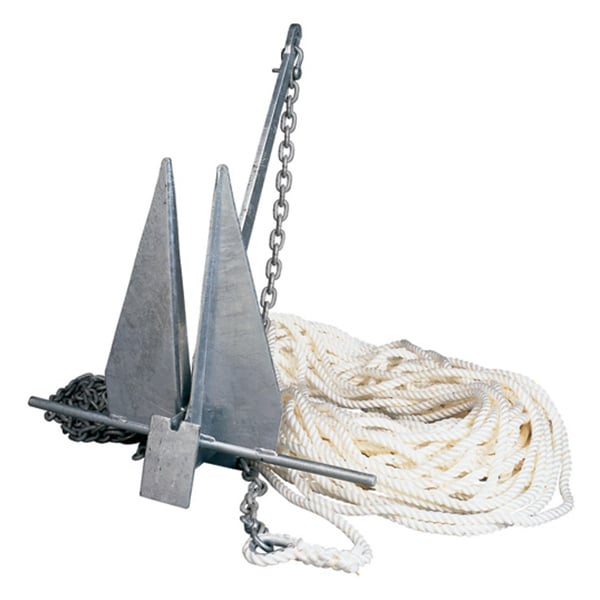 Create a Float Plan and Give it to a Friend
The U.S. Coast Guard Auxiliary recommends that before going boating that you leave a float plan with a reliable person who can be depended upon to notify the Coast Guard, or other rescue agency, should you not return or check-in as planned. Of course this can be done via email or by providing a "hard copy" of your intentions to the reliable person. For a float plan template that shows the type of information you need to include, see the U.S. Coast Guard Auxiliary Float Plan pdf.
Take a Boating Class
The USCG Auxiliary and US Power Squadron offer a wide variety of boating classes for first-time and experienced boaters alike. Classes include instruction on radio communications, navigation, boating law, boat safety equipment, safe boating practices, trailering and more. In addition to offering boating classes, these organizations are always open to new members. Members enjoy a variety of social activities and the rewarding experience of working in a civilian support role on behalf of the United States Coast Guard to promote boating safety.