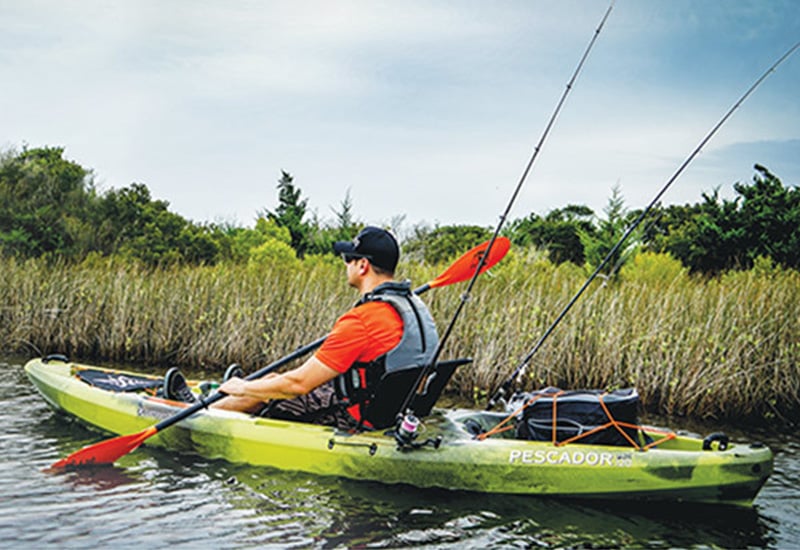 Fishing Kayaks
Packed with features like multiple rod holders, rigging tracks and tackle box holders, these Kayaks are built to be fishing machines.
Shop Now
Get on top of the angling action with a fishing kayak.
If you are considering joining the growing armada of kayak anglers, what are you waiting for? Fishing kayaks offer plenty of advantages over powered boats. For example, compared to powerboats, kayaks are inexpensive to purchase, easy to transport; and are an environmentally clean alternative to fossil fuel powered craft. They are very maneuverable; and with their shallow draft, enable kayak anglers to navigate to where powerboats can't. 
What should you look for when shopping for a fishing kayak?
Figuratively speaking, when shopping for a kayak, you should try the boat on for size—meaning sit in it to see how it feels. Are the foot rests in a comfortable location for you? And is the kayak's weight capacity adequate for a person like yourself?
At a minimum, your fishing kayak should include built-in rod holders, at least one underdeck storage compartment and in most cases, molded-in cup holders. Most kayaks also include a recessed location on the aft deck where a tackle box, scuba tank or cooler can be secured. Is the kayak offered as a "package" that includes items such as a kayak paddle and a comfortable kayak seat, or will you need to purchase those items separately?
How will you propel your kayak?
While most kayaks are designed to be paddled, many (with the separate purchase of a kayak trolling motor mount) will accept a trolling motor. Another option are kayaks that literally can be pedaled. Examples include Pelican's The Catch 110 Kayak, Old Town's Sportsman Salty PDL 120 and Perception's Crank 10.0 pedal drive kayaks. 
Kayak Accessories
A wide variety of accessories are offered that enable anglers to customize kayaks in line with their preference and angling needs. Many kayak accessories are offered as part of an integrated system. Kayak accessory systems usually begin with the installation of a gear rail (if not already installed) to which various kayak accessory mounts can be slid on or removed. Examples include rail mounts for a fishfinder, gear bag, camera, or for rod holders.