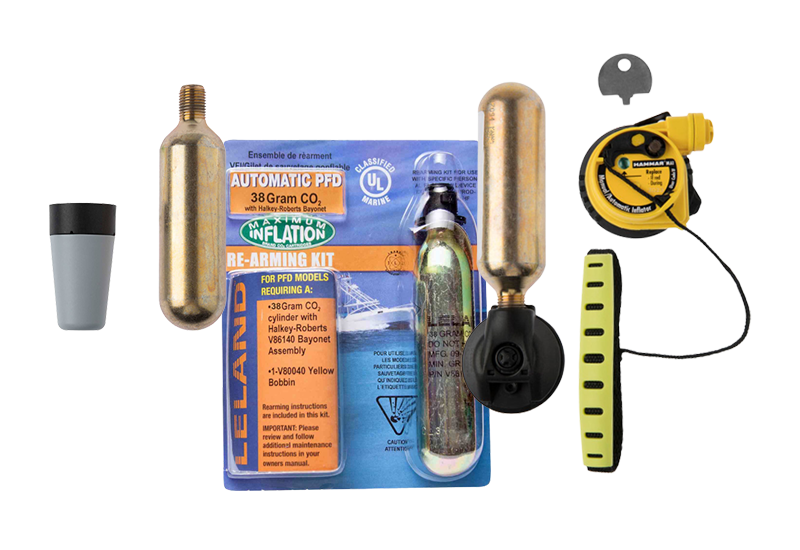 Inflatable Life Jacket Rearming Kits
Rearming Kits contain the items required to rearm your vest, including cylinder, bobbins, pills and green pin as necessary.
Shop Now
For safety's sake, buckle up with a life jacket that's right for you.
At West Marine, we believe safety when boating should be your first priority. This starts with having the right life jacket for you—one that you are willing to wear.
Do you want an inflatable PFD or an inherently buoyant life jacket?
When shopping for a PFD, you will need to choose between an inflatable and an inherently buoyant model. Inflatable life jackets are offered with a choice of manual only or manual/automatic inflation. Inflatable life jackets include models designed for recreational, inshore/coastal and offshore use. Offshore inflatable life jackets provide the most buoyancy and include features such as a built-in safety harness.
Inherently Buoyant Life Vests
Inherently buoyant life jackets rely upon neoprene or encapsulated closed cell foam for flotation. When selecting an inherently buoyant PFD, choose one that fits snugly and provides adequate freedom of movement for your boating activity. These types of PFDs are offered in a variety of styles designed for different boating activities, such as fishing, paddling, watersports, dinghy sailing and general recreation. In addition to offering life jackets for adults, West Marine offers infant life preservers, kid's life jackets, youth PFDs and even life jackets for pets.
Changes to Life Jacket Labeling
Until recently, all of the USCG approved life jackets and flotation aids that West Marine sells were assigned a USCG "Type" designation, which could be Type I, II, III, IV or V. Most of the recreational life jackets described in the above paragraph were formerly labeled as USCG Type III. Now however, under a new system of "Harmonized Life Jacket Approvals", life jackets equivalent to the Type III models mentioned above are labeled as "Level 70" buoyancy aids. For more about changes to life jacket labeling and additional help with selecting a life jacket, read our West Advisor article How to Select a Life Vest.