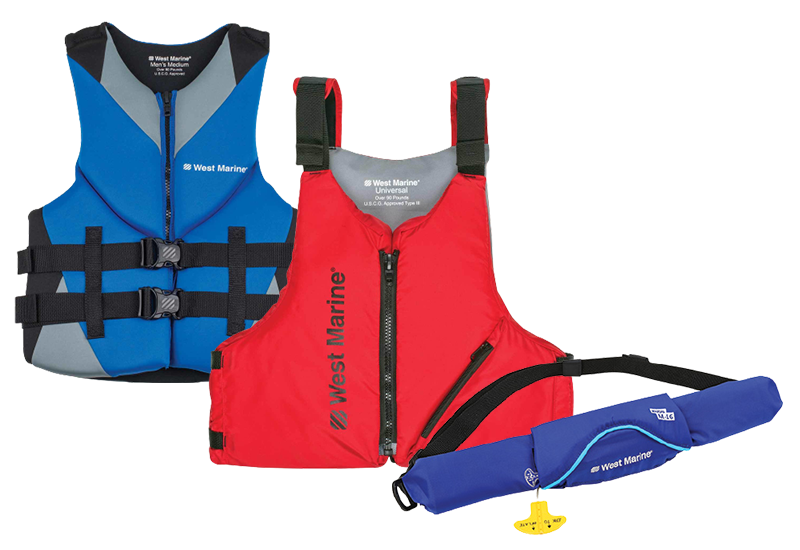 West Marine carries a wide selection of Life Jackets for Water Sports and Paddlesports so you can find a perfect fit for everyone in your family.
Shop Now
Life's Better on the Water
Swimming? Tubing? Floating? Paddleboarding? Snorkeling? Kayaking?
The list goes on and on.
West Marine's water sports equipment selection is unmatched and truly a one-stop shop for all you and your family's summer activity needs. The limit does not exist as to how many water sports can happen in a summer season!
Water sports offer something for everyone, and it doesn't always have to be a boat adventure.
Towable tubes bouncing over the boat-made waves and wakeboards carving crests make for a heart-pumping-filled day, but we know everyone has a different cup of (iced) tea.
Have you ever jumped on a trampoline in the middle of a body of water?
If you're shaking your head left to right, we recommend giving that a try this summer. The Rave Sports Bongo Water Bouncers are an easy-to- set-up option for families looking for summertime joy at the lakehouse. It's like bringing your very own water park with you wherever you go—instant fun!
Are you maybe looking for a low-key lounge day activity to catch some rays or even something for the kids to play on? The West Marine 3-Layer Water Carpet is the "magic carpet" of the water. With plastic grommets for securing the water carpet to the boat, this simple yet fun floating platform is a hit for all ages.
And for those looking for a more physically active day seeking underwater exploration, grab your scuba fins, mask, and snorkels from Guardian Scuba and start swimming!
Water safety is always a high priority for us here at West Marine, and we know it is for you too. That is why we offer a full selection of life jackets from kid-sized life jackets to life jackets made for paddleboarding pursuits and everything in between.
Now, pack your swim caps, sun hoodies, towels, and sunscreen. Fill the cooler with your favorite sandwiches and drinks. Choose your water activity of the day and get out there!
Your day is looking bright.